Wave pools May Bring Surfing to East Valley
Jim Walsh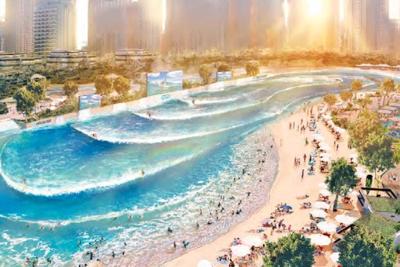 Wave parks are all the rage around the world. This is a rendering of one being built in Paris that is scheduled to be completed in time for the 2024 Olympics in France.
Special to the AFN
A developer already has "Surf Mesa'' tee-shirts printed, hoping that his proposed two-acre "surf lagoon" turns into a regional attraction near Phoenix Mesa Gateway Airport.
But while the lagoon is the centerpiece of Cannon Beach, it also includes 475,000 square feet of commercial space, a gym, a climbing wall, a go-cart track, a 65-foot tall hotel and retail space.
All of this would be built only about a mile northwest of the airport, in an overflight area where housing could not be built without a permit because of aircraft noise.
The developer, Cole Cannon – a surfer himself from his days at the University of Southern California – said "there's a huge, transplanted population from Southern California'' that yearns to go surfing again, but can't return home every weekend.
 "What we are trying to create is something that can't be delivered to your door,'' he told the Tribune.
He said his focus is on a 25-45-year age bracket that highly values unique experiences, such as hiking a national park or surfing, rather than just acquiring possessions.
Cannon envisions travelers using the airport and staying at the hotel to either surf or just enjoy people-watching and a beach ambiance transplanted from Southern California to the Sonoran Desert.
Cannon said he has visited surf parks around the world and retained experts in water dynamics that will help him realize his dream – including a contractor who has built facilities for the elite Navy Seals.
Working with large bodies of water can be tricky and probably will be the hardest part of completing the project, Cannon said.
"We are fully expecting a lot of trial and error,'' Cannon said. "We have the capital to do this. We have built simulators of it.''
Cannon declined to release a price tag but said he would like to start construction next spring. 
With the best technical help available, he said, "we want to get a perfect wave.''
Cannon anticipates his beach project will turn into a major destination, but added, "We need cooperation from the city and we need cooperation from COVID-19.''
Wave parks are becoming trendy in the desert. Another one is planned at the Gilbert Regional Park. 
Jerry Lehman, a former nationally ranked surfer, said he is planning to build two Surf Town attractions – one each in the East and West Valleys.
Lehman declined to release the locations until he has land deals sown up, but he said he has an investor willing to finance both parks. 
He has dropped his original plan to build a park on Salt River Pima-Maricopa Indian Community in the Talking Stick Entertainment District. 
"None of these guys have the connections to the surf industry that I do,'' Lehman said. "It's going to happen.''
He said he knows surfers in California who are driving to a surf park in Waco, Texas, to conquer a new wave and that new technology that produces a guaranteed wave is fueling a boom in parks.
"It's exploding all over the world right now,'' Lehman said.
"If we get 10 parks built in Phoenix, I'm all for it,'' he said in a Facebook video on his Surf Town page.
But none of the new parks have materialized yet. All of them feature a lagoon, but there are a lot of variations beyond that.
Developers of the The Strand in Gilbert announced recently that their $60 million state-of-the-art water park would be delayed a year, with a summer 2021 opening planned.
The Strand would be a 25-acre project at the new Gilbert Regional Park under construction at Queen Creek and Higley Road as part of a public-private partnership solicited by the town.
When the water park opens, it will feature a surf lagoon, a cable wake park, inflatable aqua course, sand beach and a kids' play area.
Gilbert expects The Strand to bring its own water supply.
Cannon Beach will use about one-eighth of the water now used at the site for agriculture, Cannon said. 
The 40-acre site is across from the American Furniture Warehouse, on the east side of Power Road, north of the Loop 202 and south of Warner Road.
He said he hopes people will judge the proposal on its own merits and not lump it in with Waveyard, another surf resort that never got off the ground a decade ago at the former Riverview Golf Course.
Mesa voters approved a land sale in 2007, but the city required Waveyard's developers to submit plans and proof of financing before completing the deal. The plan collapsed in 2011 under the weight of the last recession.
But Waveyard's failure eventually paid dividends for the city, clearing space at a premiere location that eventually turned into Sloan Park, the spring home of the Chicago Cubs, and a rebuilt Riverview Park, two popular attractions.
Now, Mesa could end up with both the popular baseball stadium and an attractive water resort as Cannon Beach seeks zoning approvals, after debuting at the Mesa Planning and Zoning Board meeting.
"I think it's very exciting,'' said board member Tim Boyle. "It will be neat to see how it turns out.''
Cannon Beach won a unanimous recommendation for approval from the board. The project would go before the City Council next for consideration of the necessary zoning changes.
The proposal covers nearly 60 acres, but the south 20 acres are merely conceptual, with more details to come later. 
It would change the zoning from agricultural to general commercial, with a planned area development overlay that signifies a certain standard or theme.
A council use permit would be required to allow outdoor dining and seating in the airport over-flight zone. A boardwalk would circle the lagoon and lead to other attractions, such as the restaurants and the hotel.
A second section would include some additional entertainment options, including an indoor trampoline and the go-cart track. A third section would be rezoned for light industrial nearer to the airport.
"Cannon Beach, located in the north portion of the site, will be the premier destination for the East Valley, bridging the gap between sun, sand, and surf,'' according to a project narrative submitted by zoning attorneys Sean Lake and Ralph Pew.
"The recreational activities will create a unique attraction and will offer advanced active entertainment, progressive surfing experience, water play, experiential retail/dining, hospitality, and state of the art office space – all immersed with views of ocean-side character and the sound of crashing waves breaking in the desert sun.''
Even amid the COVID-19 pandemic, with many hotels only at 10 percent occupancy, the Cannon Beach hotel has created a buzz, generating interest from six hotel groups, Cannon said.
He said a special filtration system will ensure that the canal water used to fill the lagoon will be safe for swimming.  
The north portion would feature "the crystal-clear blue surf lagoon,'' surrounded by 475,000 square feet of commercial space, the project narrative said. 
Restaurants, office space and indoor recreational activities including a gym, go-cart track and climbing wall would be included. The south portion would be oriented more towards work than fun, featuring light industrial uses compatible with the airport.
Ryan Smith, a spokesman for the airport, said he believes the developer has already met with airport officials and that they would monitor the development closely to make sure development would not create any additional safety concerns.
He said the property is in an aircraft overflight area two, which would require permits to allow housing, but no permanent housing is included in Cannon Ranch.
"We fully support any proposal that brings interest to the airport and visibility to the southeast Valley,'' Smith said.
Mesa City Councilwoman Jen Duff, the city's Visit Mesa liaison, said she will focus her questions on water quality and sustainability issues when the proposal comes before the council.
"There's a lot of businesses down there near the airport and a lot of homes. There's not really a lot of attractions. It could be a plus to the area,'' Duff said.