Top Story: Ground broken for Mesa surfing lagoon
Tom Scanlon, Tribune Managing Editor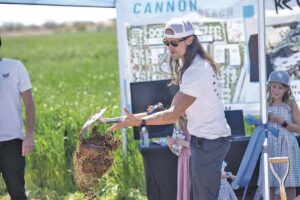 Cole Cannon, a Gilbert resident, promised at a March 30 groundbreaking that surfers and families will be enjoying Cannon Beach in southeast Mesa in the summer of 2022. Councilman Kevin Thompson and others witnessed last week's launch of his $25 million project.
Mesa is about 200 miles north of the Rocky Point beaches in Mexico and 350 miles from the sandy surf spots of San Diego.
Now.
But, Cole Cannon swears, by the summer of 2022, Mesa residents will have a beach in their backyard.
t's hard to argue with Councilman Kevin Thompson when he called this "one of the coolest projects in Mesa."
Cannon still has a long way to go, Cannon Beach — no need to be modest, when you've raised $25 million — is officially underway, after a desert-to-beach groundbreaking at Power and Warner roads March 30.
Cannon plans for a pool with waves ranging from small enough for beginners to gnarly enough for professional competitions to be open next summer. After that, he expects a mixed-use development with restaurants, office space and a hotel.
Naturally, the development is in southwest Mesa, the booming district with Eastmark and Cadence residences, tech companies and another planned recreational facility, the 330-acre Legacy Sports Entertainment Park. 
"I think that's great," Cannon said, of the sports park under construction 6 miles from his beach-to-be. "As a parent and amateur weekend warrior, I want more of what gets us outside and active. It adds to and complements us … maybe I'll go over there and play some volleyball."
The Gilbert resident has big plans for his Cannon Beach, but it won't have volleyball: "We opted not to have volleyball on the beach. Errant volleyballs can be disruptive," he said, with a sheepish grin.
Cannon said he has building permits to launch his 37-acre development, highlighted by Revel Surf, a 3-acre surf lagoon.
No surf? No board?
No problem.
A press release promises "there is something for everyone at Cannon Beach – specialty dining, fish tacos on the beach, day spa, gym, splash pad for kids and overall good vibes."
The developer loves to surf, but expects the vast majority of patrons at his beach won't be jumping on boards.
"They can put their feet in sand, chuck the kids on a splash pad and let them hang out. It'll be fun to watch beginners learn and fun to watch professionals shred on a wave," Cannon said.
"I built this with my family in mind: I have six little kids under 10. My wife wouldn't jump in the surf lagoon, but I can see her getting a bite to eat while the kids play on the splash pad … It'll be something for everyone." 
Like a surfer unafraid of sharks, Cannon jumped in the water and started paddling on his project —  pandemic be damned "Our plan was to begin construction this year. Even with COVID, we didn't slow down, we went full speed ahead," he said.
"People thought we were nuts to have a project with restaurants and hotels started during the pandemic. But we had a 'Field of Dreams' attitude: If we build it, they will come."
Beaches in the desert apparently the new thing, with a massive lagoon planned in Glendale and a surf park planned in Gilbert. 
"The Strand, I don't view them as competition," Cannon said of the Gilbert project. "I'm cheering for them. They're closer to my house. The main difference is we have different wave technology. And to my knowledge, they don't have hotels and retail and restaurants."
While some who have seen fast-talking developers fade-out may be rolling their eyes, Cannon insists his beach will be a reality.
"We'll have major earth movement in the next couple of weeks. We have already been issued construction permits. We hope to have half of the lagoon completed by August," he said.
"We don't have all the financing to build all the restaurants," he allowed. "But we have financing lined up to build the surf lagoon … We're trying to keep the budget below $25 million."
Unlike some notorious "locals only" beaches in California, where outsiders are scorned and surf veterans battle over waves and mock flailing "newbies" pounded into the surf, Cannon said his beach will be family-friendly and a no-judgement zone.
"We want to create a culture," he said, "where it's OK if you wipe out."
As long as the development doesn't get crushed by waves of financial and technical challenges, that is …
Tribune Managing Editor